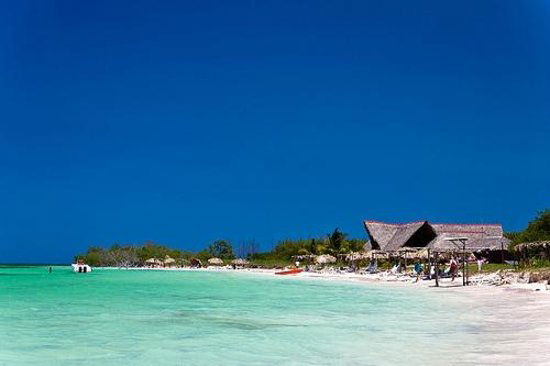 One of the most virgin lands that decorates the Los Colorados Archipelago in the westernmost province of Cuba, is Pinar del Río, which has an area of about 4 square kilometers. Perhaps its name is due to the presence of jutias (hutias) in the key.
The area boasts three kilometers of beautiful beaches, with fine sand the colour of snow. Crystal-clear turquoise waters carrying gentle waves coming from the Gulf of Mexico, sparkle in the sun as they lap the shores.  Here the visitor experiences the sensation of being in an earthly paradise, in the midst of the immensity of the Universe. There are no human settlements in the area to ensure a balance between nature and any tourist activity. Visitors usually arrive through a causeway, about 10 kilometers long, that joins the key with the Greater Antilles.
Visits are mainly confined to the daytime, however adventurous types can reserve a tent and camping equipment at the nautical center to spend the night on the beach. Don't worry, crocodiles don't venture here, and you can always rely on the protection of the rangers, who guard the natural surroundings and its wild inhabitants 24 hours a day.  If you do decide to camp, remember to bring something to eat in the evening as the on-site restaurant closes at 5:30 p.m.
One of the greatest enjoyments for tourists is to visit the sunny Playa de las Estrellas, due its rich and diverse populations of marine life that are protected by law. Access by land is not allowed to prevent ecological damage, but a boat trip and a stay of about an hour is offered. Hunting and fishing is of course totally prohibited.
The predominant vegetation is small white pine forests in the interior and mangroves accompanied by beautiful coconut palms on the coastline. The peacefulness of the area, with an average annual temperature of 24 °C invites you to dive amongst the nearby reefs, where you can enjoy the incredible richness of the marine life.
Currently, there is only one restaurant in the area and in addition to serving delicious meals it also offers visitors facilities such as diving equipment, water bikes etc. We hope that this secluded but affordable part of our country can maintain its charm and peaceful beauty and that hotels and other tourist industry infrastructures are not developed.
Sources:
Thanks:
A Sergio Ferreiro - Counsellor/Tourismo Affairs. Cuba Tourist Board Nordic & Baltic Countries.
Graham Acutt, co-worker, who contributed to the writing the article.
Dear reader, thank you for your interest in my article. If you are interested in these topics, please subscribe to tocororocubano.com, so as not to miss the following publications. Support us by liking and leaving your comments.
«No-copyright» (CC) Henrik Hernandez 2022