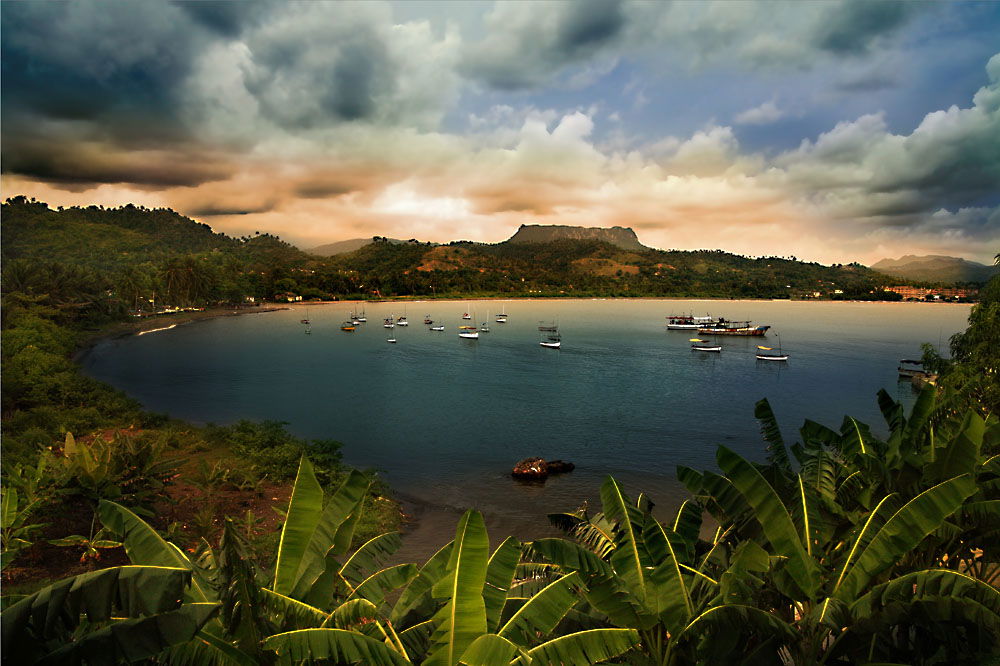 Baracoa is a municipality and city of Cuba in Guntánamo Province. On August 15, 1511, Diego Velázquez ordered the construction of the Villa de Nuestra Señora de la Asunción de Baracoa (Our lady of the Assumption of Baracoa) and declared it the capital of the Island. It is the oldest Spanish settlement in Cuba, the basis for its nickname "Ciudad Primada" First City.
Some say that Baracoa in the indigenous Arauca (Taíno) language means "high land", while others express that it means " the presence of the sea"
Baracoa was declared one of the 29 national monuments of Cuba. The local population is the bearer of a culture that is similar to that of the Indians, the first inhabitants of Cuba. Also, the nearby mountain in the form of a plateau, known as the Yunque of Baracoa, is seen on the horizon, it is a national monument that is located in the Alexander de Humboldt National Park, recognized by UNESCO as a World Heritage Site, an exclusive tourist destination for all visitors.
Baracoa lies on the Bay of Honey (Bahía de Miel) and is surrounded by a wide mountain range (including the Sierra del Purial), which causes it to be quite isolated, apart from a single mountain road built in the 1960s. The Barcoa mountain range is covered with Cuban moist forests and Cuban pine forests. Baracoa has a tropical rainforest climate with high temperatures and rainfall throughout the year.
You can enjoy the highest waterfall in the Caribbean (El Salto Fino) with 305 meters high, which places it in the twentieth place in the world. Also in the Toa river you can enjoy the waterfall known as "El Saltadero" with 17 meters high. The Toa River, which is the largest river in Cuba, which has 71 tributary rivers.
You can visit other towns in the municipality: Barigua, Boca de Yumurí, Cabacú, Cayogüín, Jamal, Jaragua, Los Hoyos, Mabujabo, Mosquitero, Nibujón, Paso Cuba, Sabanilla, Santa María, Vega de Taco and other smaller towns.
The remote location at the eastern end of the Cuban island has kept the influence of mass tourism quite low, despite the idyllic location. You can fly to Baracoa from any Cuban province or come by road from the city of Guantánamo, over a viaduct called La Farola - an engineering feat that is literally a cliffhanger.  
Sources:
CUBA Legendary Cities
Thanks:
A Sergio Ferreiro - Counsellor/Tourismo Affairs. Cuba Tourist Board Nordic & Baltic Countries.
Dear reader, thank you for your interest in my article. If you are interested in these topics, please subscribe to tocororocubano.com, so as not to miss the following publications. Support us by liking and leaving your comments.
«No-copyright» (CC) Henrik Hernandez 2022